Dimitri, the Cremer Florist Door Greeter!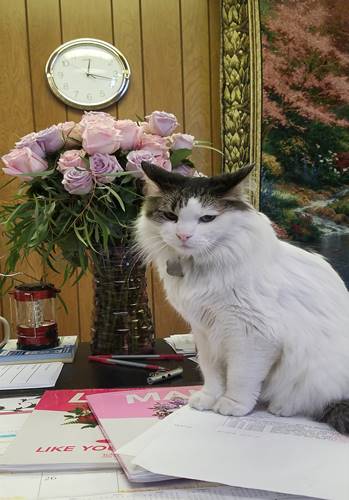 Hello, my name is Dimitri.
I became the newest employee of Cremer Florist on January 30th. Andrea, one of my co-workers, read a study on how having a pet in the workplace increases morale and productivity. So, they decided to find one that suited their flower shop. I was lucky that they stopped in at the Pet Smart in Hanover to look at me and my companions. We were placed there thru the SPCA, hoping to be adopted. As soon as Amy and Andrea walked into our play area I knew I had to impress them. I made sure they knew how friendly, loveable and personable I was. I stayed by their side, even when they were playing with my other roommates. I gave them lots of attention and rubs. I was thrilled when they chose me. They realized that even though I am pushing 70 (that's 10 years for you humans) I still have a lot of spunk and spirit but my laid back demeanor really fit the workplace. I consider myself well-seasoned.
They brought me to my new home. I must say, a flower shop was not where I was expecting to live, but I am very impressed.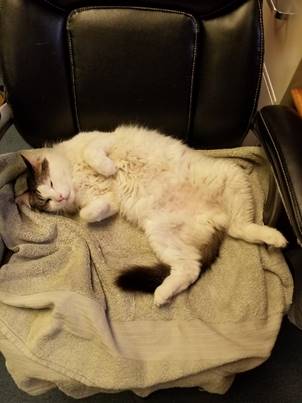 I have my own chair...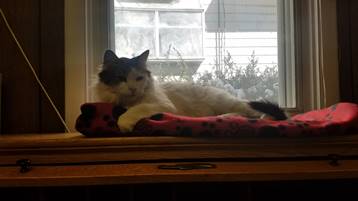 my own window seat...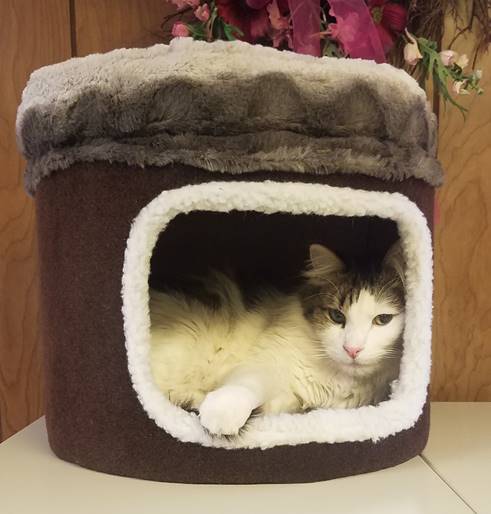 and my own executive office.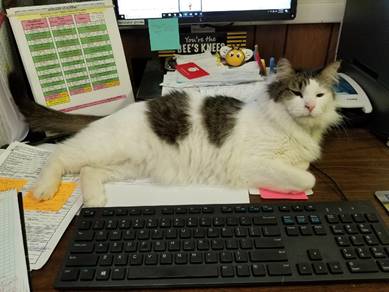 I learned fast, as a new member, to work hard. The computer was a little tricky.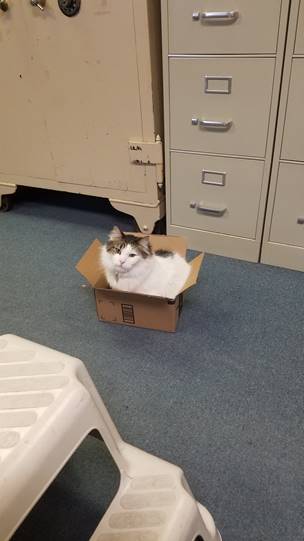 Shipping & Receiving was not really my strong suit.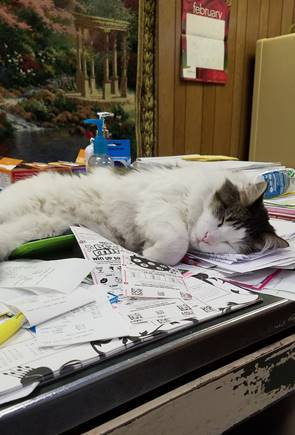 Paperwork just puts me right to sleep.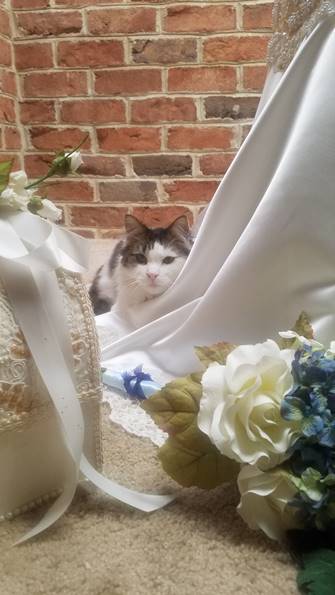 However, I realized that I do have an eye for wedding fashion.
But after getting to knows the ins and outs of the business, I found my calling in customer service as a door greeter. I must say, it did not take the regular customers long, at all, to remember my name. They even go out of their way to look for me when they come in. But I excel at keeping the girls spirits up by allowing them to brush me at least 6 times a day (no joke). It's a good thing I loved to be brushed and pampered. So, that is my story. I am thrilled to be a part of Cremer Florist and am looking forward to many years of fun working days and companionship.
I would be remiss, however, if I did not say how very thankful I am to the SPCA and all the volunteers for taking such good care of me. I would have been one sad, lost, lonely kitty, if they did not take me in. They were all so nice, and kind, and friendly. I hope they know how grateful I am.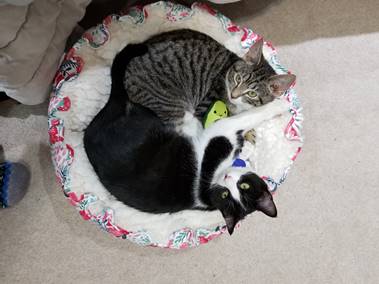 And lastly, I am extremely blessed that Andrea and Amy thought of going to the SPCA. I did find out that this was not Amy's first rescue. Only 1 week prior to me finding my new home at the flower shop, Amy brought to her house, not 1 but 2 new baby kittens. I would like to introduce you to Leo (the tiger stripe, formally known as Fillipe) and LuLu (the black & white, formally known as Penguina).
From what Amy tells me, they are so happy with their new home. They play together so much that they just plan tucker themselves out each day.
Thank you so much for listening to me. I would really love if you stopped in to see me at Cremer Florist.
Happy Cat,
Dimitri